For over 40 Years
UPS Systems for Healthcare
Diagnostic Imaging & Radiation Therapy Applications
Specializing in the Application of Central UPS Systems to Support Multi-Vendor and Multi-Modality Diagnostic Imaging and Radiation Therapy Applications
These systems protect Multi-Modality and Multi-Vendor suites in Radiology, Cardiology, Oncology, Hybrid OR Suites, Operating Rooms, and the Critical Branch. The power protection equipment is applied within healthcare at Hospitals, Diagnostic Imaging Centers, Radiation Treatment Centers, Outpatient Centers, and Medical Office Buildings (MOB).
500

+
Central UPS Installations Nationwide
Modalities
CPN Power has tested and provided multiple approaches and technologies for Central UPS Systems. We are able to consult on the benefits, features and proper sizing of the Central UPS for the given modalities. We listen to the Customer, MEP Engineer, and Architect's views, and combine this with our extensive expertise in the field.
Why CPN Power?
The Benefits of a Central UPS
The CPN Power Multi-Modality, Multi-Vendor approach offers protection for a few suites, the whole department, or multiple departments.
This Central approach assures dramatic cost and space savings over individual UPS Systems, while providing long-term flexibility for support of future equipment.
Avoid patient rescheduling dilemmas
Put an end to downtime during invasive procedures
Greatly reduce equipment service issues
Ensure better image quality via constant voltage regulation
Reduce equipment service costs
Provide flexibility for future equipment protection
Increase the revenue stream
Maintain referrals
What We Do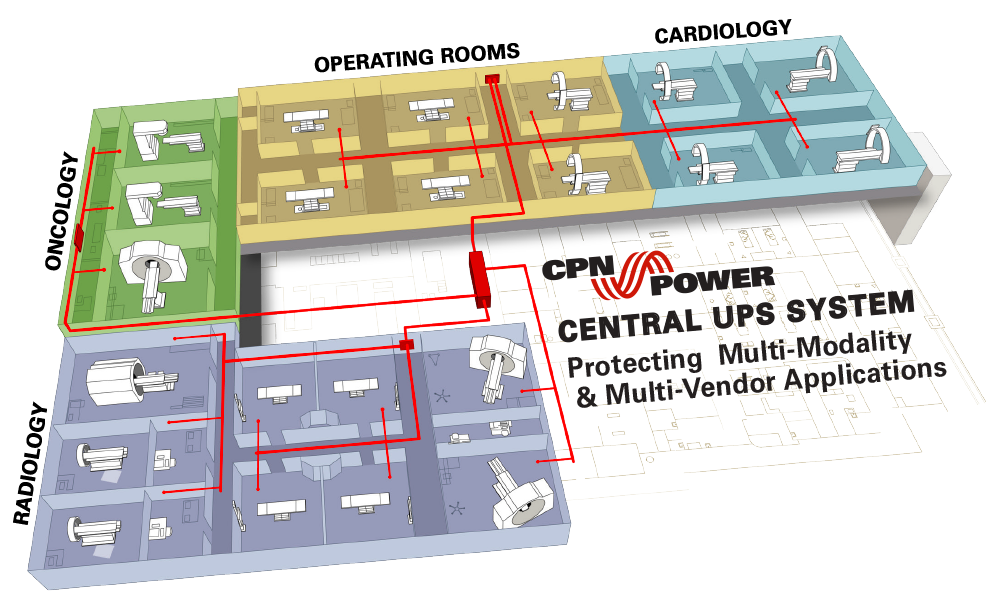 Over 40 Years of Power Quality Expertise & Application Knowledge
CPN Power has been providing power studies, power quality analysis, and power solutions for 40 years. Founded by Joe Briere (pictured here) in 1982, CPN Power has focused on Imaging applications within Healthcare since the beginning.
Today, we support additional applications within Healthcare, such as Central UPS for the Critical Branch, Operating Rooms, Laboratory, and IDF / MDF rooms.
One key to our success has been gathering load profiles of individual imaging modalities and load profiles of 2, 5, 10, 15, 20+ imaging suites on a common distribution. This knowledge serves us well in properly sizing UPS Systems for present and future loads.
About Us
The Leader in Central UPS Systems
Understanding the imaging equipment peak current and time duration, installation details, and code requirements has placed CPN Power as the leader in the application of Central UPS for Diagnostic Imaging applications nationally.
Request a Quote
Contact Us